BREAKING NEWS and EVENTS!
3rd-7th February 2018: TalaveraScience will attend the SLAS 2018 Society for Laboratory Automation & Screening, San Diego, CA, USA with IonField Systems and their atmospheric plasma treatment. IonField Systems products will be mentioned in the following presentations:
the 15:00 Tuesday talk by Carleen Klumpp-Thomas in the Screening Automation Session chaired by Sam Michael;
the 13:30 PM Wednesday talk by Eric Wallgren in the In-House Automation Session chaired by Louis Scampavia.
and there will be several poster presentations.

Please visit and see us at booth 1641 for the poster numbers and electronic copies of the posters.

Assay Analytics, an AI-based microplate evaluation and assay optimization analysis package will be introduced at SLAS. This package offers unique information to help labs identify the right microplate for assay optimization and methods development. Free trials are available from December 2017 through March 2018. If you'd like to try Assay Analytics right away so we can review the results with you in San Diego, email us at assay.ai@ionfieldsystems.com.
http://www.slas2018.org/
http://www.ionfieldsystems.com
19th January 2018: IonField Systems receives top billing on a NIH page focusing on Grantees.
https://ncats.nih.gov/news/grantees
http://www.ionfieldsystems.com
11th January 2018: A press release IonField Announces PlasmaKnife Microplate Cleaning System Placement With AstraZeneca is now available.
http://www.prweb.com/releases/2018/01/prweb15071950.htm
http://www.ionfieldsystems.com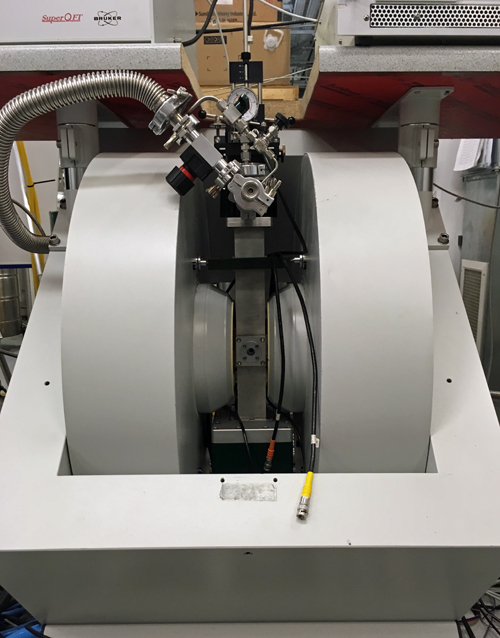 July 2017: TalaveraScience The latest installation of a Cryogenic Ltd cryogen free cryostat for EPR (CF VTC for EPR) has been made at The University of Manchester National EPR Facility & Service.
The CF VTC for EPR is shown (left) inside a 2 T X/Q band EPR electromagnet with a high power Q-band Flexline Resonator and sample positioned in it. The CF VTC for EPR has a base temperature below 2 K and can control the sample temperature up to 300 K requiring no liquid cryogens providing low temperatures with ease and convenience. Designed to operate in the same space as the conventional flow cryostat including optical access as can be seen on the cryostat body.
The CF VTC for EPR has now been installed on EPR systems in Europe, Australia and China.
The photo is taken by Dr Adam Broomfield, University of Manchester.
http://www.cryogenic.co.uk
http://www.chemistry.manchester.ac.uk/our-research/facilities/epr/