BREAKING NEWS and EVENTS!
1st-5th July 2018: TalaveraScience will attend EuroMAR 2018 at La Cité Nantes Events Center, Nantes, France.
http://www.euromar2018.org/EventPortal/Information/EUROMAR18/
HOME.aspx
29th April - 5th May 2018: TalaveraScience will attend the 59th ENC, Grand Cypress Resort, Orlando, FL, USA.
19th January 2018: IonField Systems receives top billing on a NIH page focusing on Grantees.
https://ncats.nih.gov/news/grantees
http://www.ionfieldsystems.com
11th January 2018: A press release IonField Announces PlasmaKnife Microplate Cleaning System Placement With AstraZeneca is now available.
http://www.prweb.com/releases/2018/01/prweb15071950.htm
http://www.ionfieldsystems.com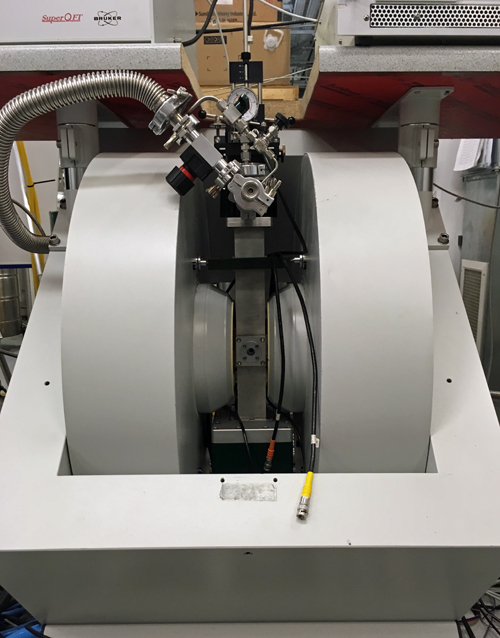 July 2017: TalaveraScience The latest installation of a Cryogenic Ltd cryogen free cryostat for EPR (CF VTC for EPR) has been made at The University of Manchester National EPR Facility & Service.
The CF VTC for EPR is shown (below left) inside a 2 T X/Q band EPR electromagnet with a high power Q-band Flexline Resonator and sample positioned in it. The CF VTC for EPR has a base temperature below 2 K and can control the sample temperature up to 300 K requiring no liquid cryogens providing low temperatures with ease and convenience. Designed to operate in the same space as the conventional flow cryostat including optical access as can be seen on the cryostat body.
The CF VTC for EPR has now been installed on EPR systems in Europe, Australia and China.
The photo is taken by Dr Adam Broomfield, University of Manchester.
http://www.cryogenic.co.uk
http://www.chemistry.manchester.ac.uk/our-research/facilities/epr/